It's difficult to believe that it was exactly one year ago that I sat down at this blog and silently typed out the words: "Mauricio's uncle and family were in a horrible car accident."

It's hard to believe that exactly one year ago we solemnly took the bus to Mauricio's uncle's house & Church, momentarily relished the familiarity of our surroundings, and then felt the painful pinch of heartbreak as a baby-sized white coffin emerged from the back of a hearse.

And it's especially difficult to believe that it was exactly a year ago that we rushed through the hospital doors and laid eyes on an uncle who was nearly unrecognizable with grief. The laughter gone from his eyes, all evidence of life and joy vanished as he slumped in a chair, crushed by the unbearable weight of loss.

But what may be the most unbelievable of all, is the restoration visible today. The home quieted by sudden death is once again filled with laughter and joy. The turmoil has returned to peace. The grief has turned to dancing.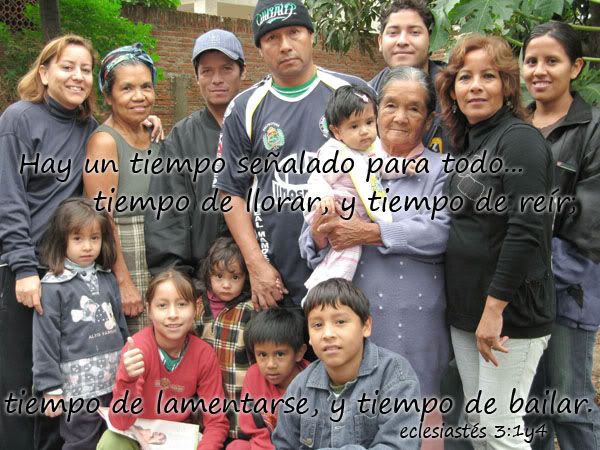 There is a time for everything...
a time to weep and a time to laugh,
a time to mourn and a time to dance."
Ecclesiastes 3:1 and 4.



I won't pretend that it isn't difficult to remember this day. That we have all forgotten and moved on. But I also won't deny the amazing healing of God. The Lord gave and He took away. But it didn't end with that. He gave and He took away, but He didn't abandon us. Though Mauricio's amazing aunt and baby cousin are no longer here with us, God is. His presence nearly tangible. Blessed be the name of the Lord.